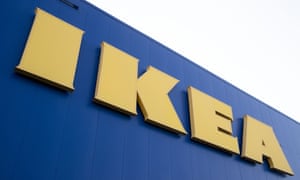 Ikea has bought a shopping centre in west London and is understood to be looking for more malls in the UK as it makes the most of bargain prices in the crisis-hit retail property market.
Hammersmith's Kings Mall, which opened in 1980 and has 40 shops including H&M, Primark, Sainsbury's and Wilko, is the Swedish furniture chain's first shopping centre in the UK and the first it has taken over. The chain is investing £170m in the mall including the purchase and redevelopment. Ikea owns 44 malls worldwide but has built these itself, rather than buying up existing centres.
In October, Ikea said it had bumped up its property team in the UK with the aim of capitalising on the decreased valuations of many shopping centres prompted by numerous closures of high street chain stores.
The company is thought to be looking at further shopping sites across the UK as a way to get its hands on sites for its smaller, more accessible stores in city centre locations.
It is unlikely to face much competition for targets from institutional investors, which are shying away from the retail sector in the face of the rapidly changing market and declining values.
The group's shopping centre arm, Ingka Centres, owns a portfolio of 44 centres in 14 markets around the world, including Russia and China, all of which are anchored by an Ikea store.
Gerard Groener, the managing director of Ingka Centres, said: "Our urban projects are all about getting closer to more people. More of our customers are living in cities than ever before and a regenerated Kings Mall will be an ideal location for reaching millions of Londoners."
The retailer opened its first trial city centre site in the UK in Birmingham in 2016, which was closed in 2018. That year it opened another small city centre store on central London's Tottenham Court Road in 2018, and has since opened another in Bromley, south-east London.
Both those sites are "planning studios" that enable shoppers to get advice on kitchen and bathroom overhauls. The Hammersmith store, which will open in spring next year, will be different as it will stock more than 2,000 home-furnishing accessories available to take away immediately.
The company said Swedish food, including its famous meatballs, will be on offer within Kings Mall as part of its plans to redevelop the centre.
Peter Jelkeby, the country retail manager of Ikea UK & Ireland, said: "We continue to respond to people's evolving shopping habits, making Ikea more convenient than ever before."
• This article was amended on 10 January 2019. An earlier version said Ikea's first city centre site in the UK was on Tottenham Court Road in 2018. That overlooked a store that was open in Birmingham's city centre from 2016 to 2018. It also stated that £170m was the purchase price of the mall, rather than the total investment. These have been corrected.
As 2020 begins…
… we're asking readers, like you, to make a new year contribution in support of the Guardian's open, independent journalism. This has been a turbulent decade across the world – protest, populism, mass migration and the escalating climate crisis. The Guardian has been in every corner of the globe, reporting with tenacity, rigour and authority on the most critical events of our lifetimes. At a time when factual information is both scarcer and more essential than ever, we believe that each of us deserves access to accurate reporting with integrity at its heart.
You've read 123 articles in the last four months. More people than ever before are reading and supporting our journalism, in more than 180 countries around the world. And this is only possible because we made a different choice: to keep our reporting open for all, regardless of where they live or what they can afford to pay.
We have upheld our editorial independence in the face of the disintegration of traditional media – with social platforms giving rise to misinformation, the seemingly unstoppable rise of big tech and independent voices being squashed by commercial ownership. The Guardian's independence means we can set our own agenda and voice our own opinions. Our journalism is free from commercial and political bias – never influenced by billionaire owners or shareholders. This makes us different. It means we can challenge the powerful without fear and give a voice to those less heard.
None of this would have been attainable without our readers' generosity – your financial support has meant we can keep investigating, disentangling and interrogating. It has protected our independence, which has never been so critical. We are so grateful.
As we enter a new decade, we need your support so we can keep delivering quality journalism that's open and independent. And that is here for the long term. Every reader contribution, however big or small, is so valuable.
["source=theguardian"]